Hi Everyone!
It's such an honor to be a part of this talented team.
In my first layout I used the back of the XOXO paper from the Heartland collection .
I started by applying some clear gesso all over the page. I like to protect and seal the paper before adding some color and texture.
Next, I used a stencil and black ink to create the background.
I applied some texture paste on a "handwritten" stencil and covered the paste with Pearl Embossing Powder and heated it after it dried. You can't tell so much just by looking at the picture, but it gives a very delicate texture.
I also covered the Floral Lattice Bits chipboard with Antique Gold Embossing Powder.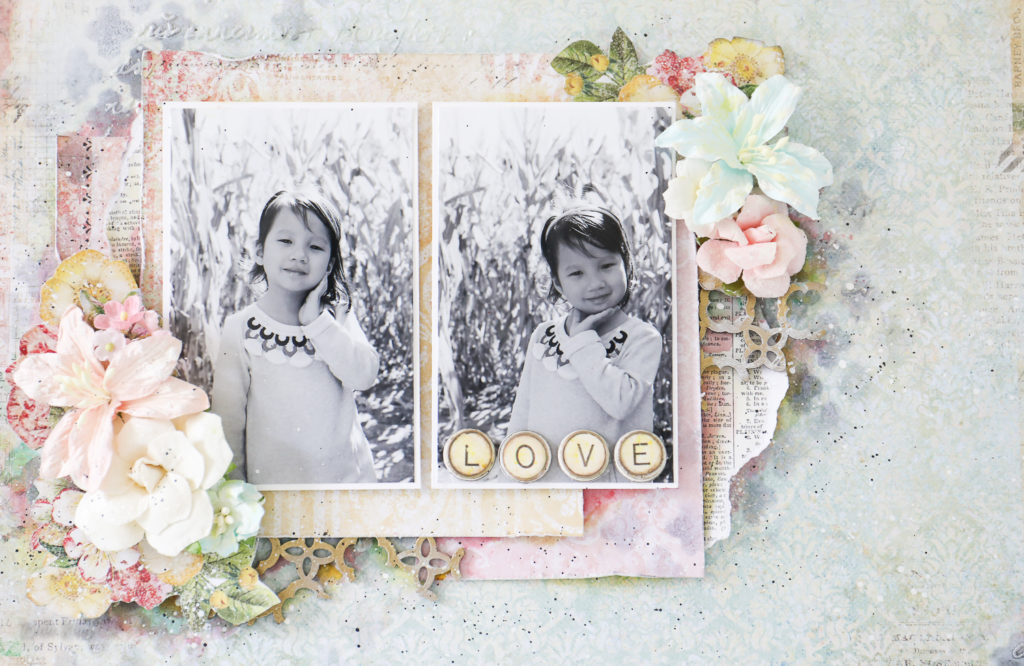 For the layers I used the following papers:  Bicycle for Two, Sweet of You and a piece of book paper.
I fussy cut some beautiful flowers using Bicycle for Two paper  and  arranged with some paper flowers – Spring Lilies to create a full bouquet.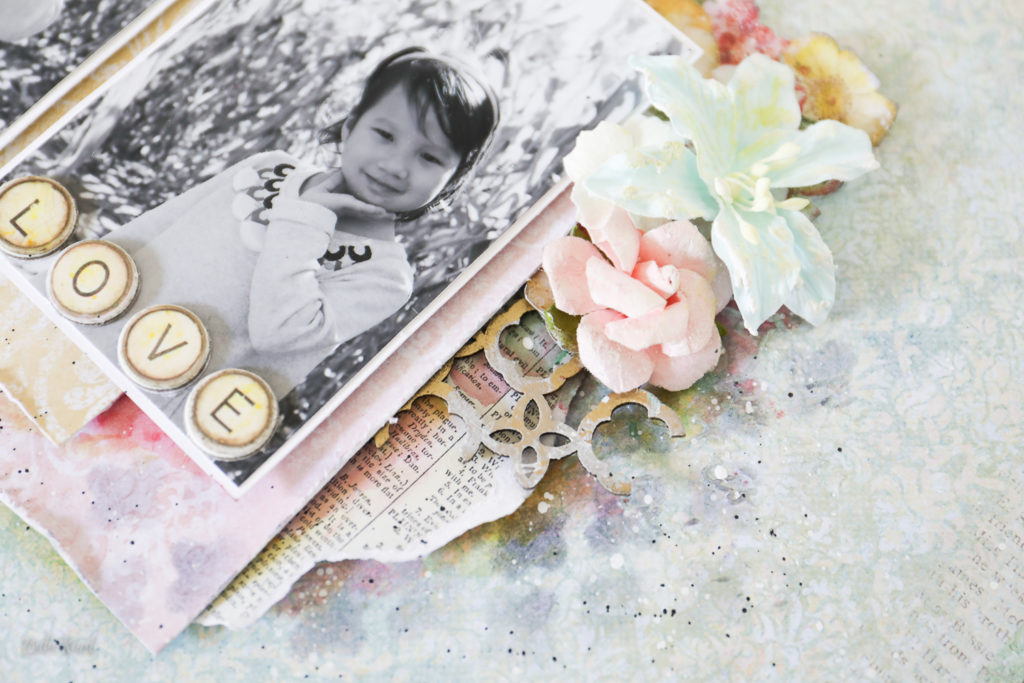 To finish the background I added a love title, a little bit of spray ink, sprinkle white and black gesso for more contrast.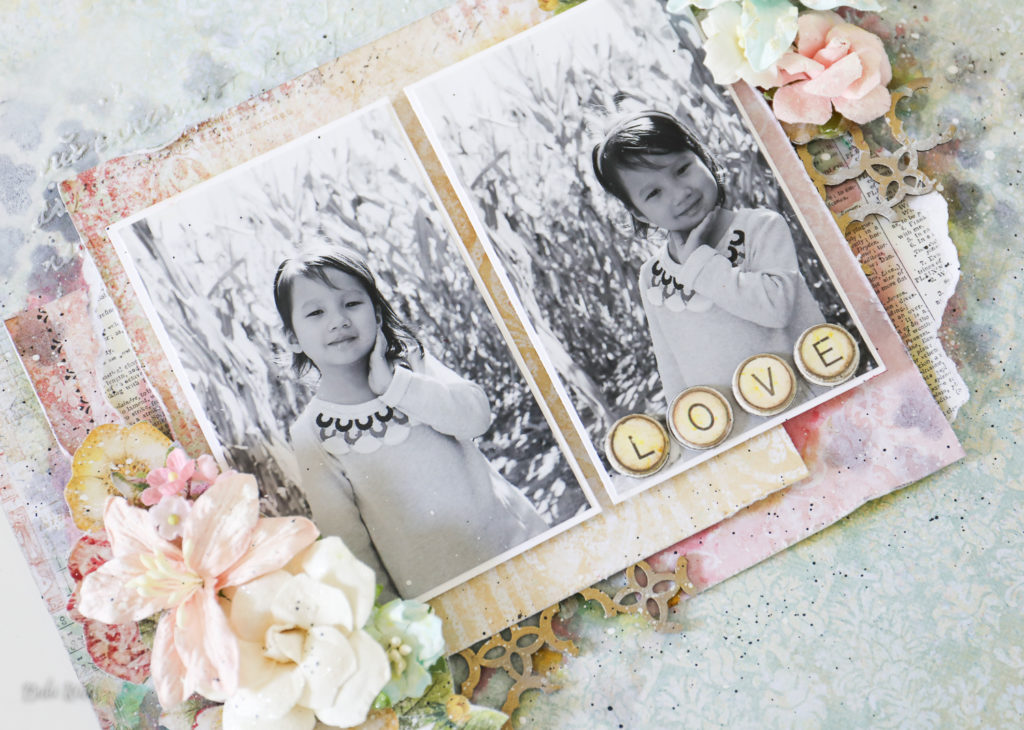 Supplies using Blue Fern Studios:
Papers: Heartland Collection -(Xoxo, Bicycle for Two and  Sweet of You)
Chipboard: Floral Lattice Bits
Embossing Powder: Pearl and Atique Gold
Flowers: Spring Lilies
————–
The Heartland collection was also used in my second layout. I love how versatile this collection is. You can go from bold to colorful very easily and keep a natural style.
I used two Kiss Kiss sheets, one of them slightly smaller to add some dimension.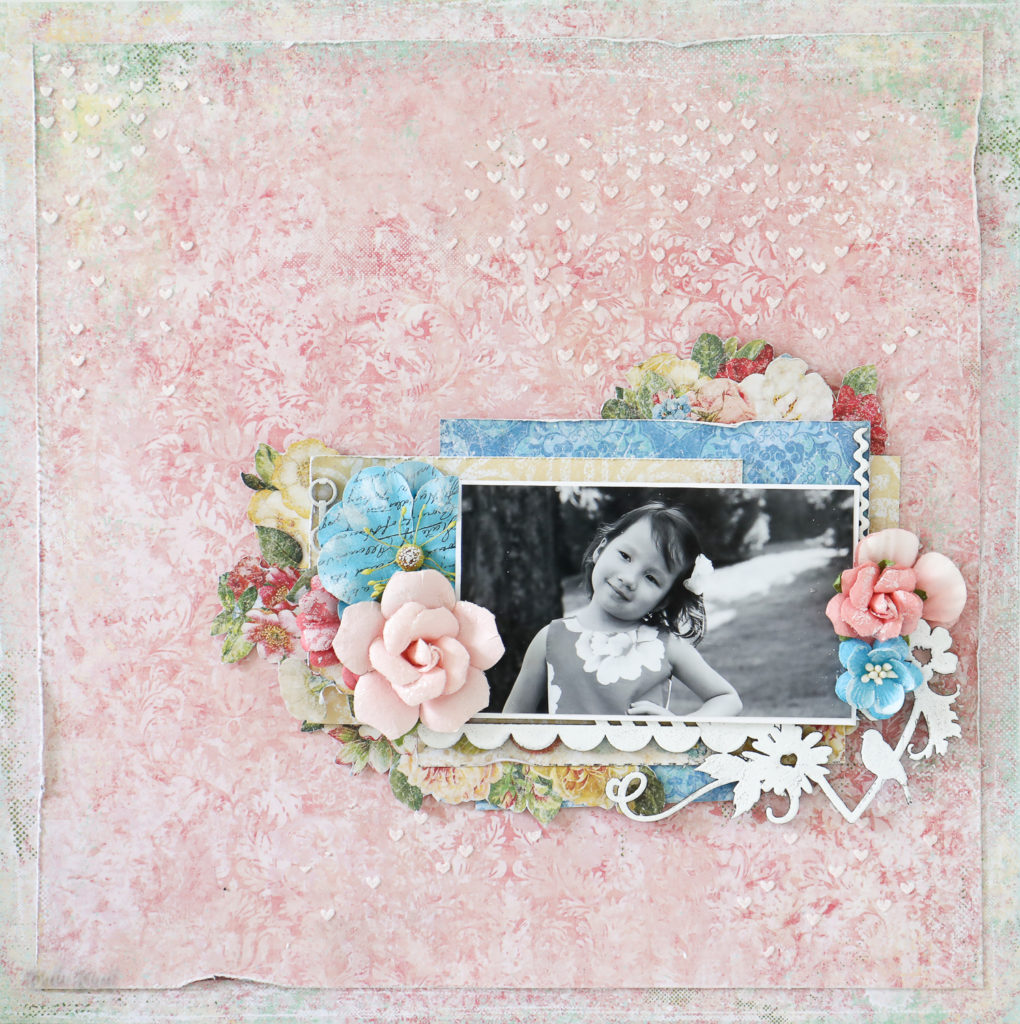 For the background I applied some texture paste using a heart stencil.  Then on top of that I added It's a Girl and Pearl embossing Powder.
For the layers I used Love Blooms and Bicycle for Two papers.
Again, I did some fussy cutting using on the Sweet On You paper.  Sorry, I can't resist these beautiful flowers. LOL.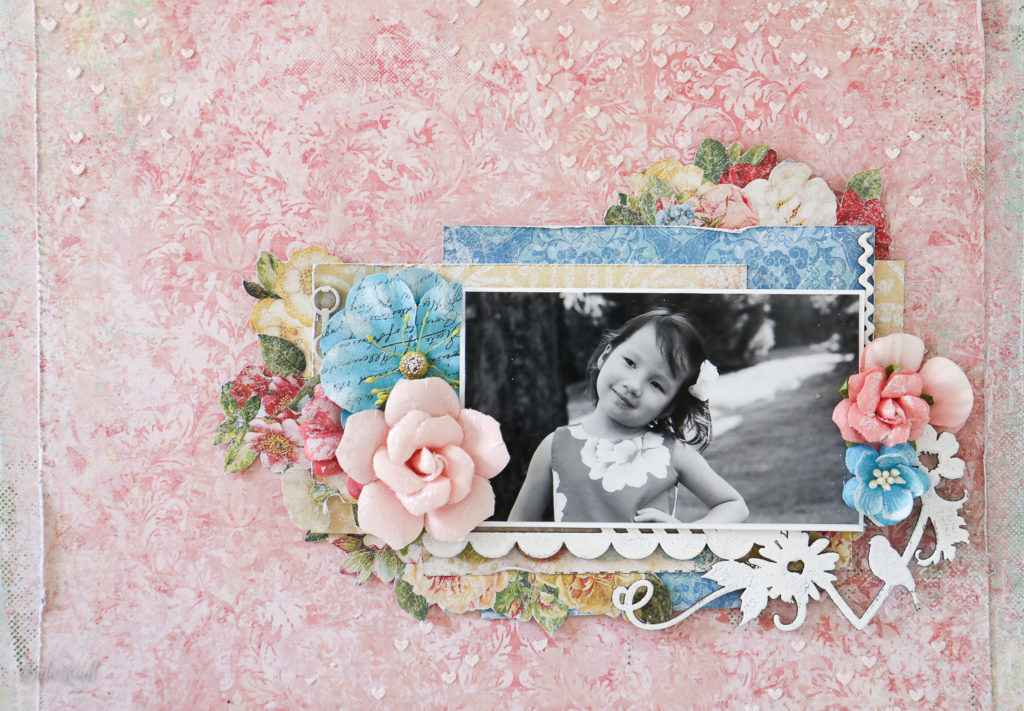 I used the chipboards Heartland XOXO that I embossed with Snow Embossing Powder. It gives a nice white look that contrast with the colorful papers.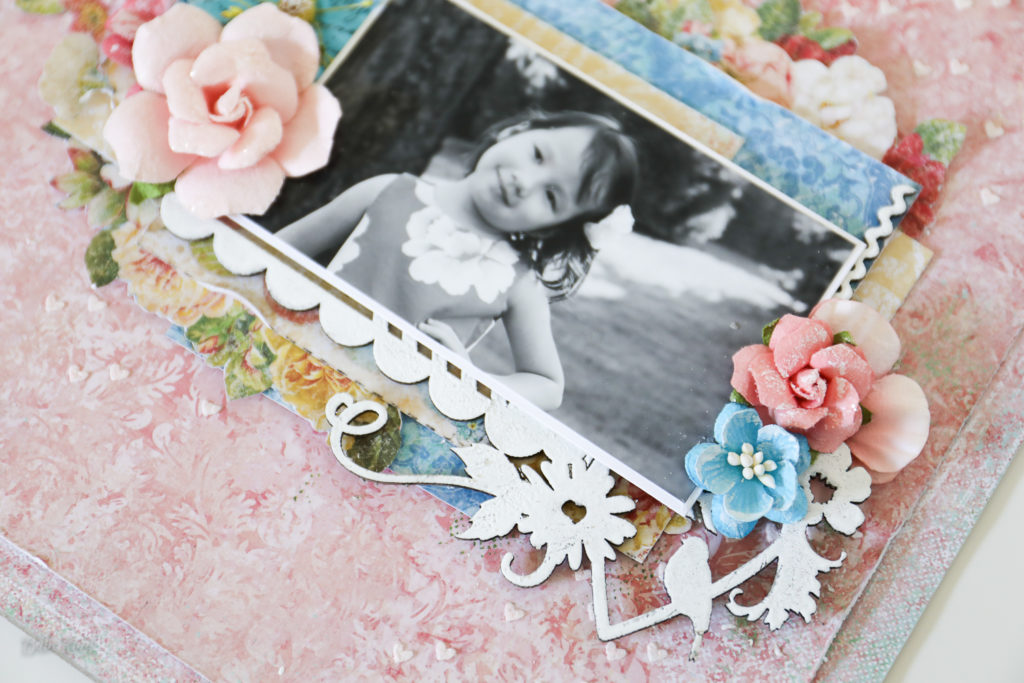 And here you can see more details of the flower arrangement.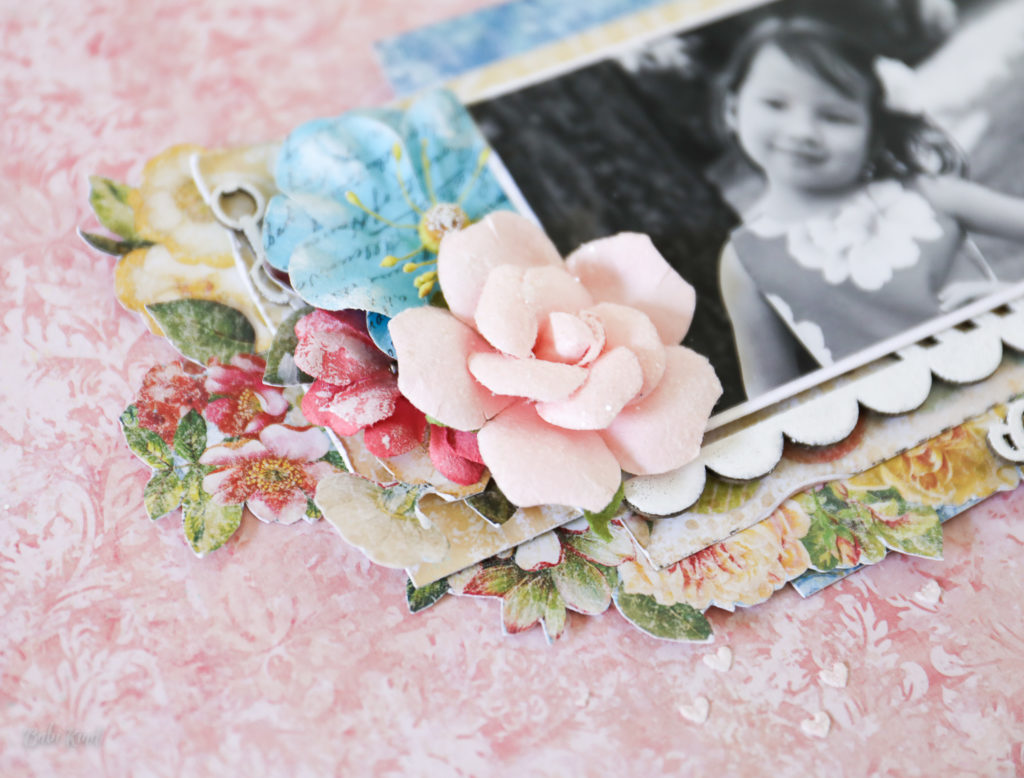 Supplies using Blue Fern Studios:
Papers: Heartland Collection  (Kiss Kiss, Bicycle for Two, Love Blooms and Sweet On You).
Chipboard: Xoxo
Embossing Powder: Pearl and It's a Girl
—————
My last layout is all about winter.
In keeping with the Christmas spirit, I decided to use these beautiful papers from Vintage Christmas collection for a Winter layout.
I used the Auld Lang Syne paper for the base and added some strips of the Wonderland paper on the sides.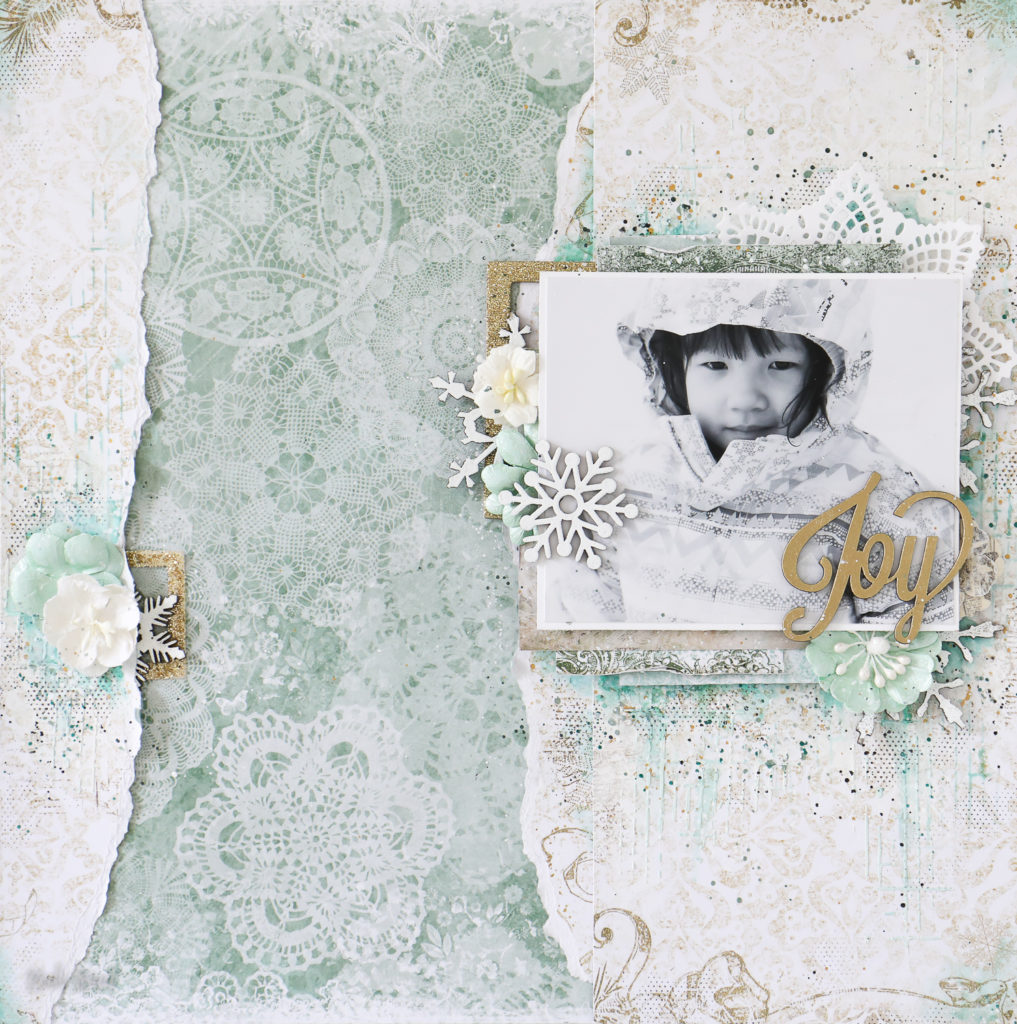 For the Layers I went with Auld Lang  (Vintage Christmas 1) and Twas the Night (Vintage Christmas 2).
Some texture with gesso, stencil, ink and stamps.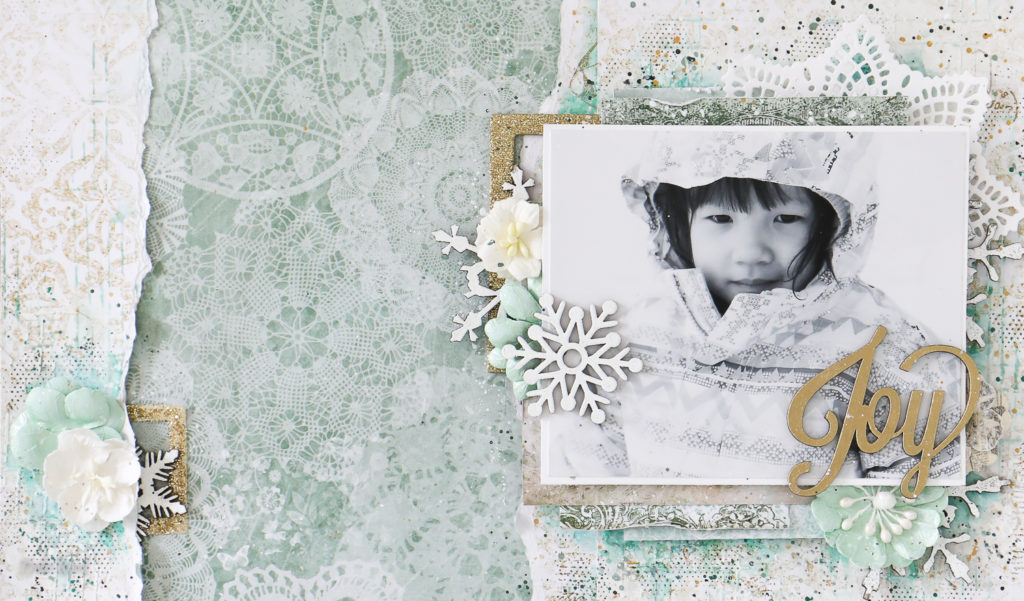 Then cut a couple of frames with white cardstock and applied some 3D gel followed by Vintage Gold and Pyrite Glitter. It's sparkly and gives some contrast to the page.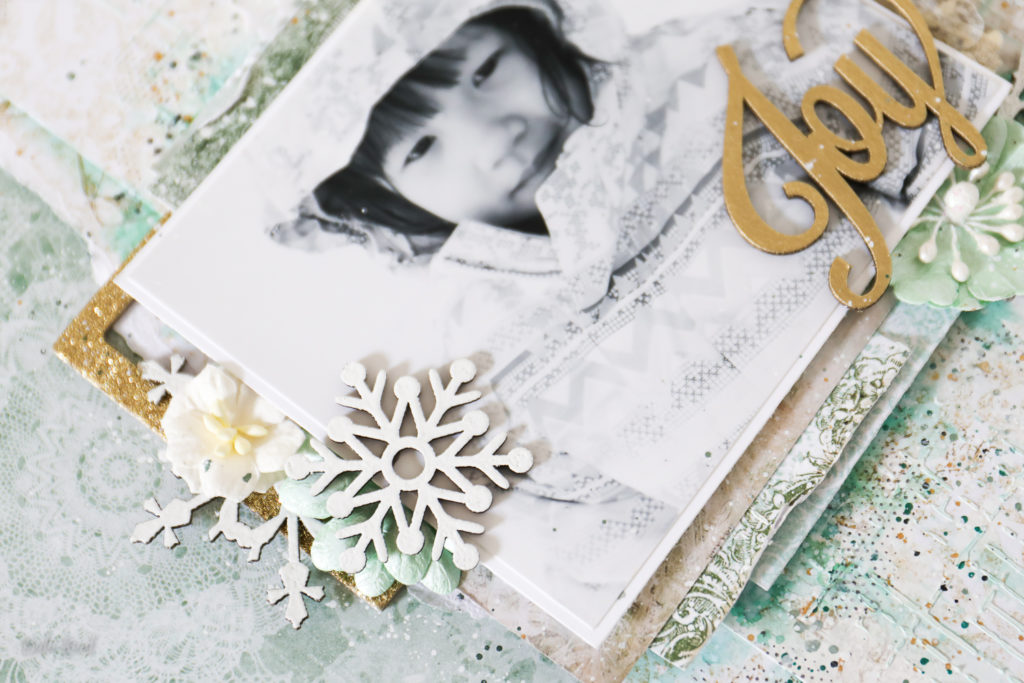 Moving on I embossed the chipboards Shabby Flakes with Snow Embossing Powder and Winter Titles with Antique Gold.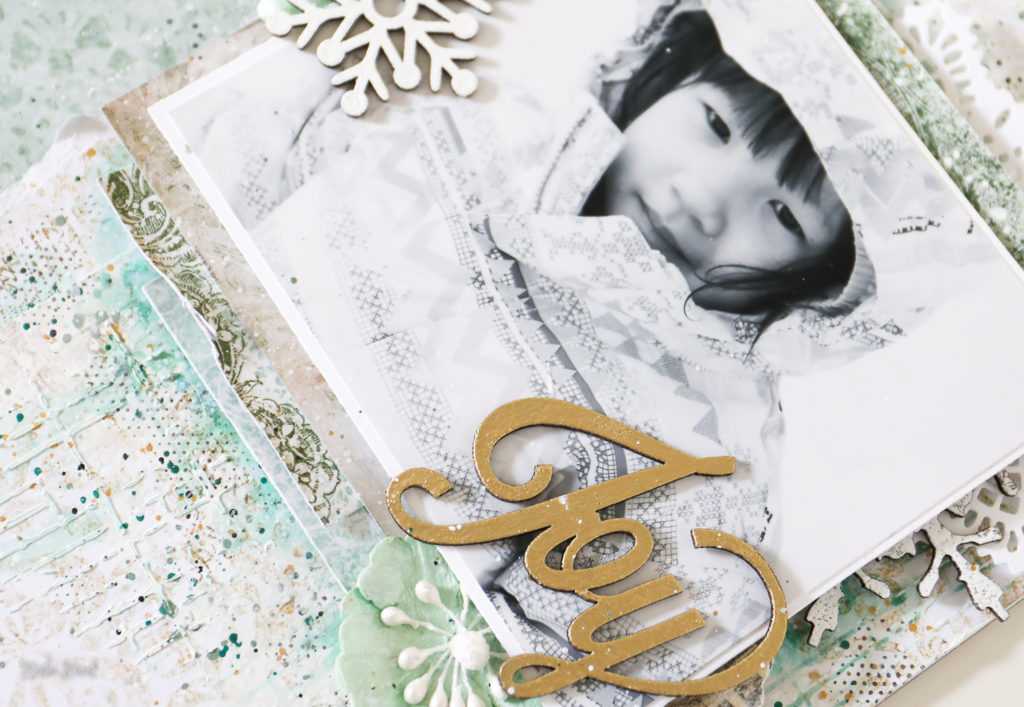 Supplies using Blue Fern Studios:
Papers: Vintage Christmas ( Auld Lang Syne and  Wonderland)
Vintage Chtismtas 2  (Twas the Night)
Chipboard: Shabby Flakes and Winter Title
Embossing Powder: Antique Gold, Snow
Glitter: Vintage Gold and Pyrite.
**Hope you enjoy it**
Thank you so much for stopping by today!
Babi