Olá, hoje eu gostaria de trazer um projeto um pouco diferente, digo, bem diferente MESMOOOO. Nesses experimentos com mixed media que eu tenho feito esse ano, eu tenho visto um tanto de coisas legais, no estilo Collage.  Esse estilo não é lá a minha praia, mas ando me aventurando mais e saindo da minha zona de conforto.
Dessa vez eu fiz um book box da Frida com algumas técnicas de mixed media. Pra falar a verdade eu ví essa foto outro dia na net e não consegui tirá-la da cabeça… e aí consegui fazer um projeto maluquete com ela. Há quem goste da Frida, e também, quem a ache uma bigoduda muito da esquisita. rsss.  Deixo a crítica por sua conta.
Hi Everyone! Today I would like to share a project which is a little different than the ones I normally do.  Ever since I started with Mixed Media, I've been seeing so many different styles and techniques, such as collage, it makes me want to try them all out.  Of course, some of them are way different from my style and as you know I prefer sticking with the delicate and more girly stuff. For today I've decided to go a little bit crazy with this cute Frida Kahlo. Some people like her art work but not so much the artist for some reason.  Art images are so subjective.
I just fell in love with this photo I found on the internet and I couldn't resist doing somenthing with it.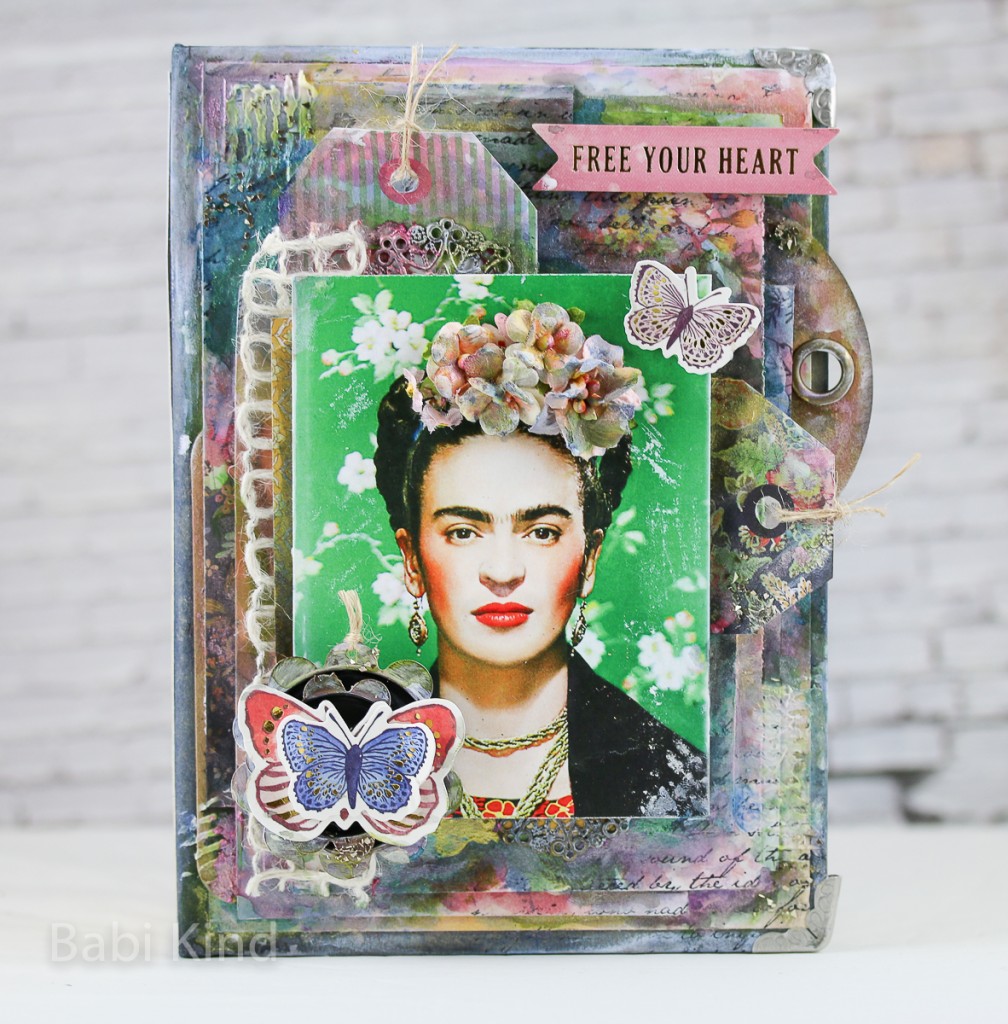 É sempre mais fácil usar imagens de pessoas que conhecemos ou amamos. É claro que eu faço um layout, eu gosto muito mais do resultado quando eu uso a foto da Olivia, por exemplo. Mas esse tipo de projeto é bom para exercitar a imaginação e sair um pouco da zona de conforto.
It's easier, for sure, to work with photos of people we know. It can be hard, at least for me, to create from the work done by someone else.  When I create a layout page I always like to use Olivia's pictures,  and that is because I know the history behind those photos…. it's easy to feel and get the emotion. But sometime, once in a blue moon, it's good to try a photo which is different and crazy.
So here is my Crazy Frida.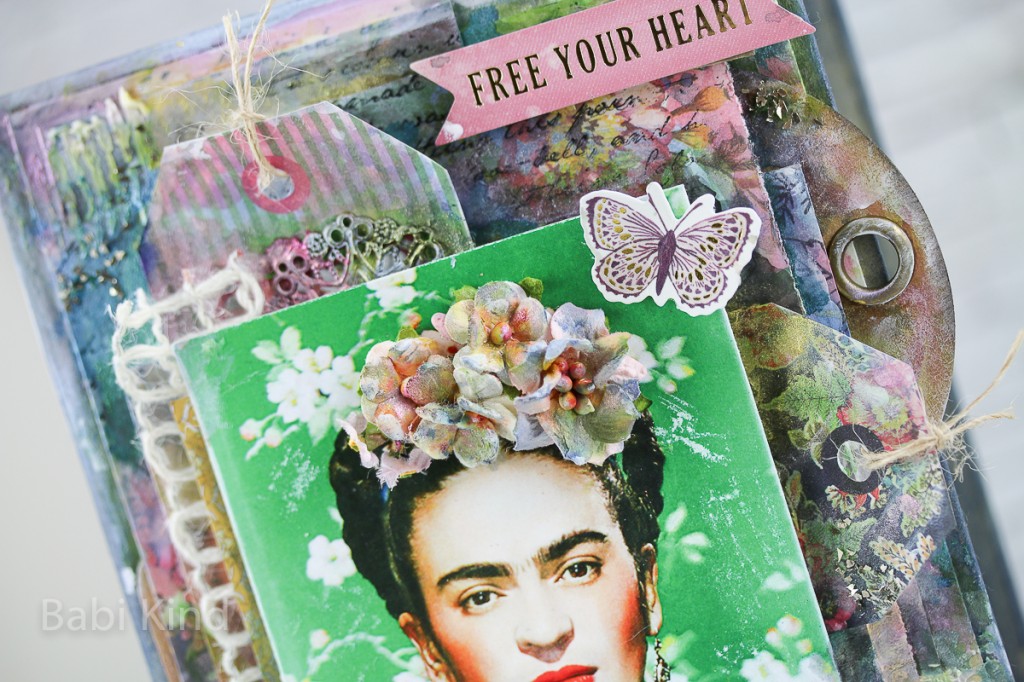 Eu usei os papeis da WE R- Wild Flower para fazer o fundo e aí usei e abusei dos Sprays e  pigmentos. Fui fazendo a sobreposição com os papeis e criando textura com as tintas.
For this Book Box I used We R – Wildflower papers, sprays, Pigments, Gesso and other products to create texture and dimension.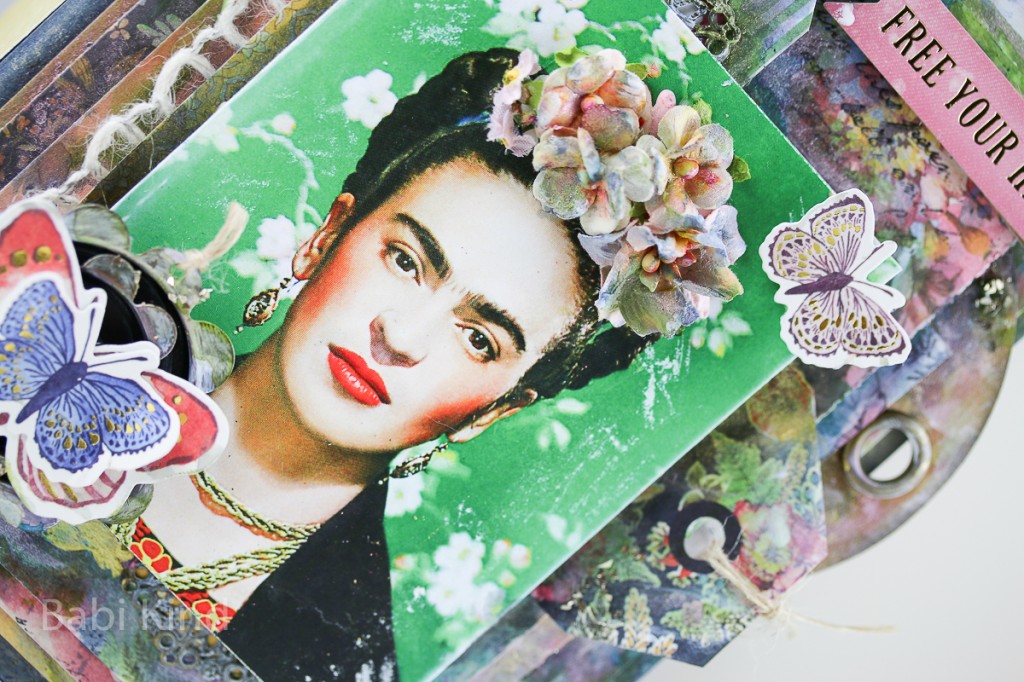 Espero que tenham gostado do meu projeto maluquete e até mais.
Hope you enjoy it!