Hi Everyone, today I would like to share my latest layout for Blue Fern Challenge.
It's been a such a hard winter over here, practically snowing for the past two months. I just miss the nice warm weather and the beach, missing Brazil. I don't know how to explain it but just breathing the air and feeling the breeze at the beach makes me truly happy.  It is like the ocean has the power to heal anything. So, back to the harsh winter… Last week was supposed to be the start of Spring, and  you know what, it snowed like crazy for the whole day.  I felt a little depress,  craving for the cool spring weather and taking my daughter to enjoy the outdoor activities.
And this is how I got the inspiration to create today's layout.  Since I can't warm my body, I would try to warm my Brazilian super tropical heart with a "beach layout". Lol. I really like it, it's been a while since my last layout… Yes, you know I'm a cardmaking girl. 🙂  Hope you enjoy it to.
Portuguese:
Olá pessoal, hoje eu gostaria de mostrar o layout que eu fiz para o desafio da Blue Fern.
O inverno esse ano nos pegou de vez e, além do frio, tem nevado bastante nos últimos dois meses. E é nessas horas e nessa estação em particular que eu sinto uma baita saudade do Brasil e de aproveitar uma prainha.  Eu não sei explicar, mas sentir a brisa, ver o mar me deixa muito feliz, como se pudesse cicatrizar qualquer ferida, qualquer sentimento negativo.  Mas voltando ao super inverno… essa semana deveria ter começado a Primavera, mas, ao invés disso, fez muito frio e nevou bastante. Quando eu achei que o tempo iria melhorar, ele vem e detona tudo novamente. Me bateu uma deprê básica, pois queria muito dar uma passeada e levar a filha para brincar um pouquinho.
E foi assim que eu achei inspiração para a minha página.. Já que não posso aquecer o corpo, eu aqueço esse coração brasileiro com um "beach layout". Eu gostei bastante, fazia tempo que eu não produzia um LO… como vocês sabem eu gosto mesmo é de fazer cartão. Espero que goste tambem!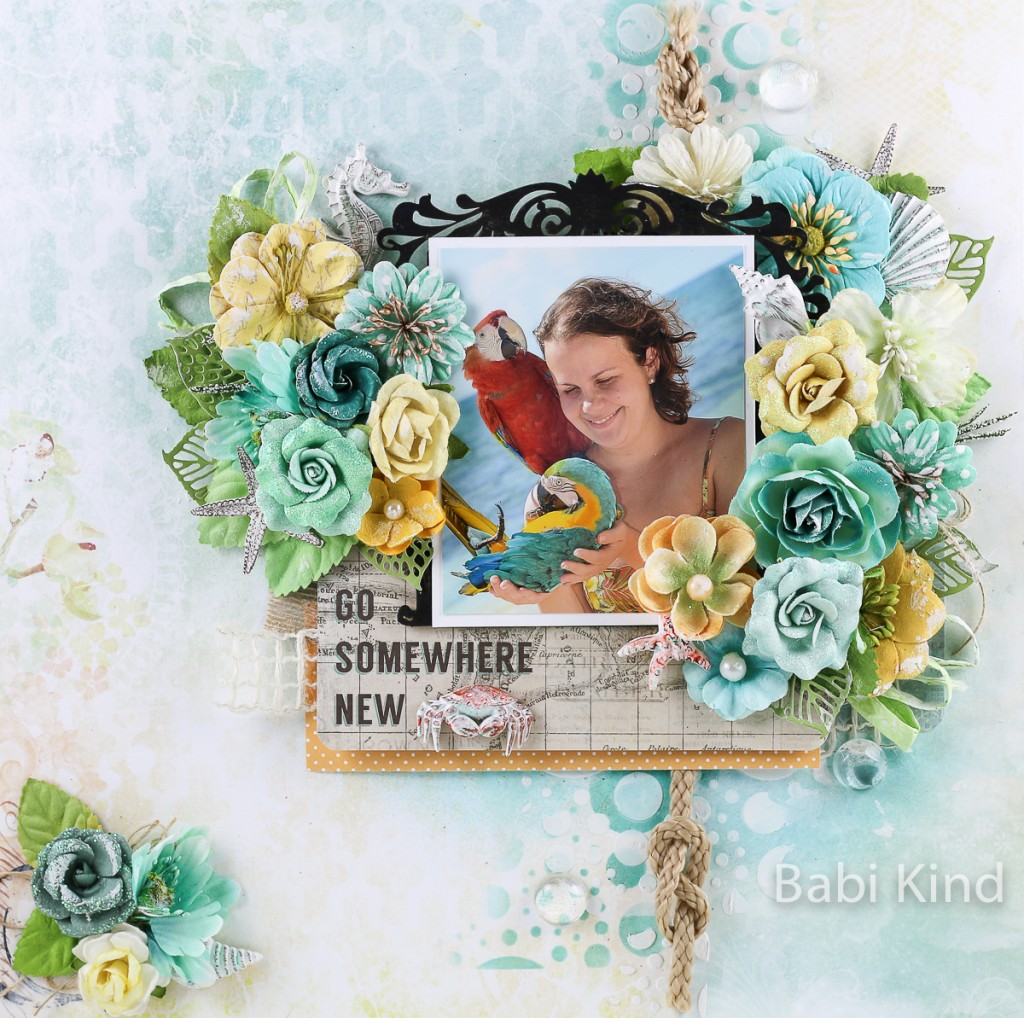 I used Blue Fern Papers and decorated with Prima Flowers and resins
March Sketch Challenge