Olá pessoal, Feliz Natal! Hoje eu gostaria de compartilhar um cartão estilo Mix Media + tutorial (final da postagem) que eu fiz para o Prima PPP de Dezembro. Eu sei que faz um tempinho desde a minha última postagem, mas quem me acompanha no Facebook e Instagram  sabe eu mudei de New York para New Jersey no mês passado. Uma verdadeira loucura arrumar tudinho rsss. Bom, eu espero postar com mais frequência e trazer coisinhas e projetos diferentes. É claro que eu continuarei com as minhas pinturas com Copic… impossivel abandonar esse vício.

Hello Everyone, today I would like to show you a mix media card I made for the Prima PPP December.  It's been a while since I last posted something here. If you've been following me on Facebook and Instagram you know that I moved from New York to New Jersey last month and it's been a little crazy.  I hope I can start posting more regularly from now on and show new projects. I will continue with my coloring which I enjoy so much and I can't simply stop doing it.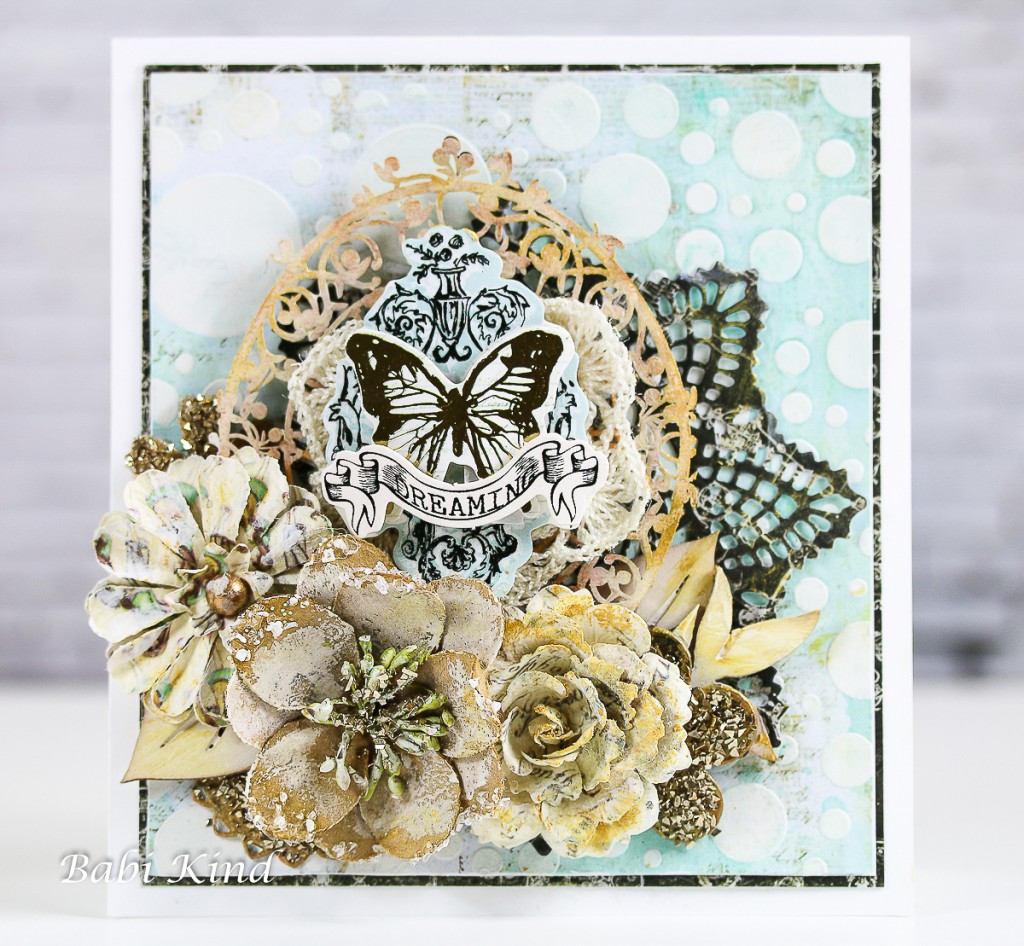 Eu usei basicamente produtos da Prima Marketing na criação do cartão, uma vez que era para o desafio da marca.
Eu cortei um pedaço de papel (Epiphany Collection) e criei uma textura com Heavy Gesso (Art Basics) e o stencil de bolinhas da Prima (Bubbles). Deixei secar e borrifei com o Color Bloom- Soft Teal.  Comecei decorando com o recorte de Doily (uma faquinha linda da Prima) em um pedaço de papel, tambem da coleção Epiphany.
For this card card I mostly use Prima Products.  I  cut  a piece of paper from Epiphany Collection and added some texture with  gesso (Art Basics)  and Prima Stencil (Bubbles) and then I sprayed with Color Bloom (Soft Teal).  After it dried, I decorated with a doily that I cut using  Prima Die Cut on a Epiphany collection paper.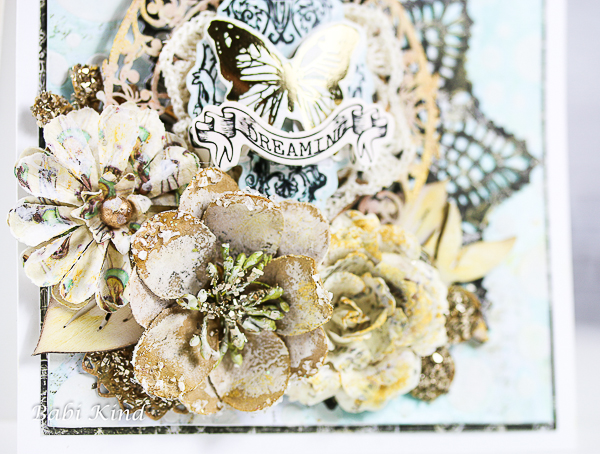 Continuei enfeitando com flores Prima (Bloom Girl e outras que eu tinha), e acrescentei umas flores de metal  (metal trinkets). No final da postagem eu mostro como criar esse efeito "brilhosinho" nas flores de metal.
For decoration I use Prima Flowers (Bloom Girl collection and some others from my stash) and added the pretty metal flowers  covered with mica flakes (see tutorial at the end of this post).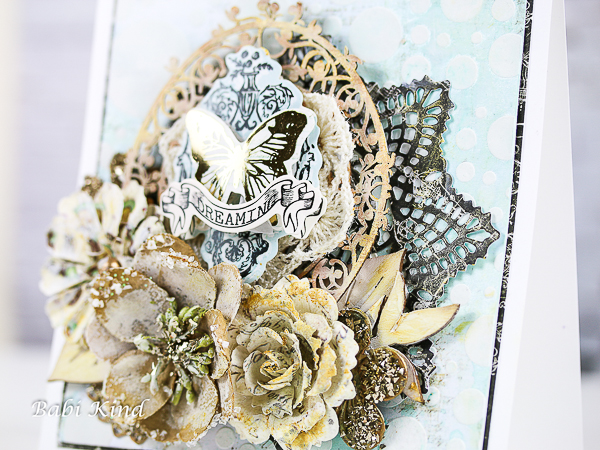 Além das flores,  eu usei  chipboard da Wycinanka (moldura) e Prima (folhas)… e  o adesivo 3D da Prima- Epiphany Colletion.
To decorate further I use  a chipboard from Wycinanka (frame) and Prima (leaves)… and added the 3D sticker from Epiphany Collection.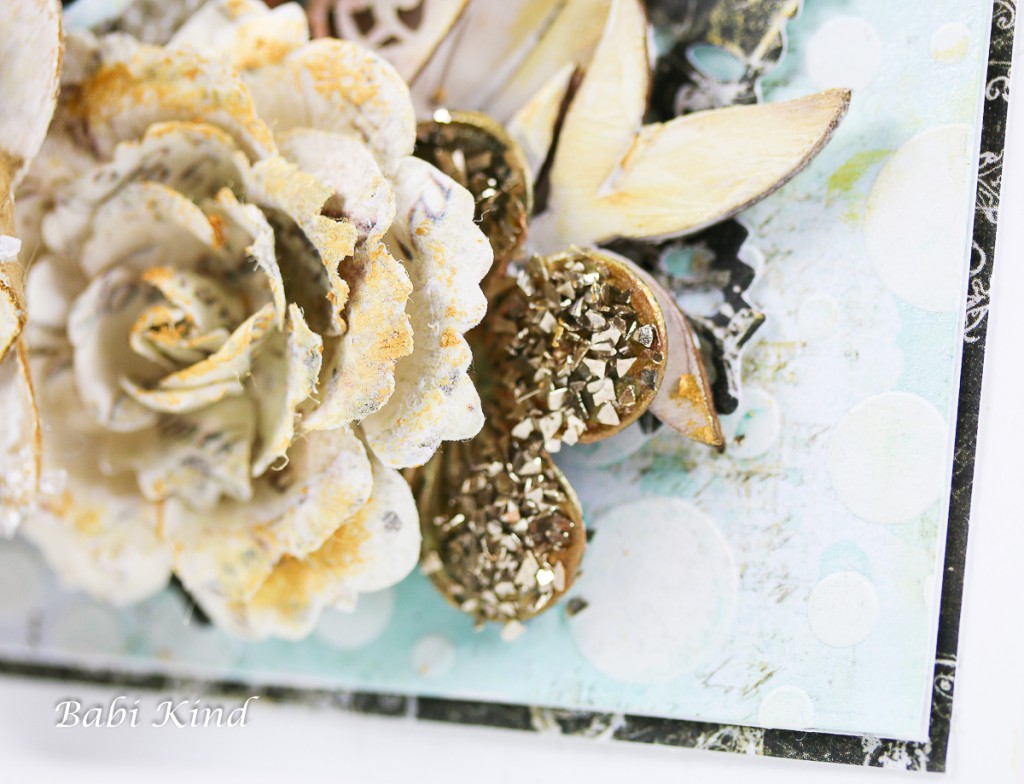 E para finalizar, eu usei o Inka Gold (pasta metálica) para dar esse efeito douradinho nas flores, metais e chipboard.
And to finish I added some Inka Gold to create a golden look on the flowers, metal trinkets and chipboard.
Creating a sparkly metal flower – Tutorial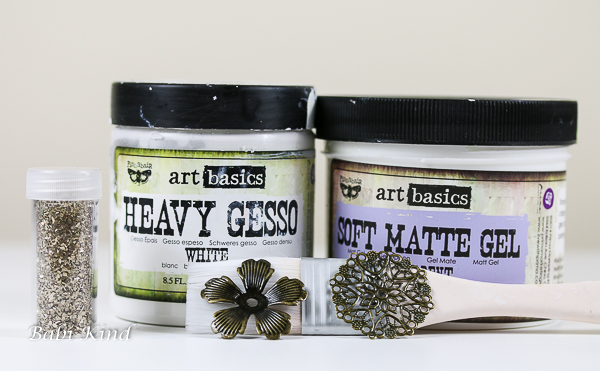 Passo 1: Eu comecei pintando os metais com o Heavy Gesso para criar um efeito mais shabby. Esse primeiro passo é opcional. Se você quiser manter a cor escura do metal, use apenas o Soft Matte Gel. Deixe secar.
First cover your metal Trinkets (vintage mechanicals) with Heavy Gesso (Art Basics). The Heavy Gesso is a personal preference to give a lighter and shabby look, but you can use something different base on your taste. Then I made 2 layers and let them dry.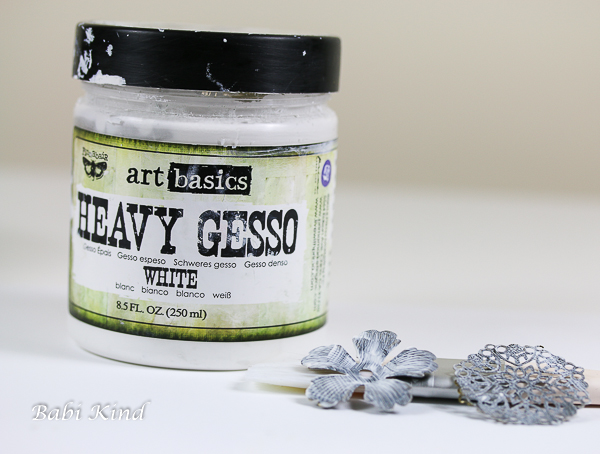 Passo 2: Acrescente uma camada de Soft Matte Gel e jogue a Mica (ou glitter) sobre o Soft Medium  ainda molhado. Deixe secar e está pronta a sua flor "brilhosinha".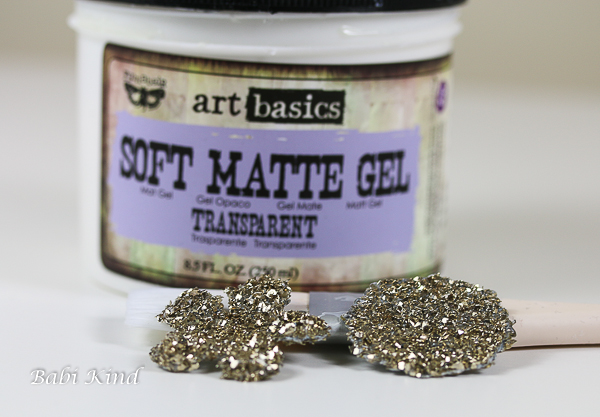 Obs: O Soft Matte Gel, ao secar, segura bem glitter e/ou esses floquinhos no estilo Mica. Eu tenho pavor de glitter pela casa. rsss
After it dried, I covered with a layer of Soft  Matte Gel and sprinkle Mica Flakes from Stampendous (you can you Prima Mica products). Now you can use your sparkly flower to decorate your beautiful art work.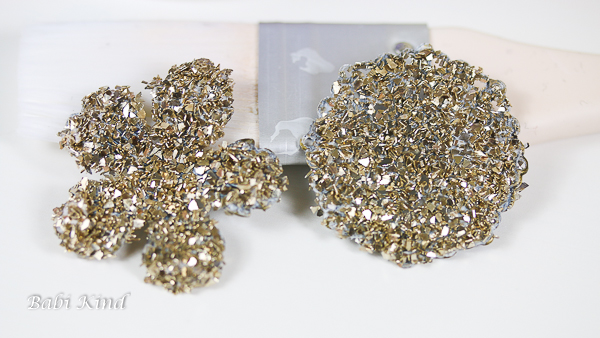 Obrigada por sua visita e até mais!
Hope you enjoyed it and thanks for stopping by.