Olá, hoje eu gostaria de compartilhar com vocês um cartão que eu fiz com a Prima Doll Candie. Essa coleção saiu agora em setembro, juntamente com algumas resinas da Ingvild Bolme (Prima Marketing) que eu uso nesse projeto. Fiz um cartão basicamente com os produtos Prima e com algumas técnicas de mix media.
Hi everyone, today I would like to share a card I made using Prima Doll Candie by Julie Nutting. This stamp and the resins are the new Prima products released in September. Gorgeous,  isn't it ?  I basically created this card using Prima Marketing products and some Mix Media techniques.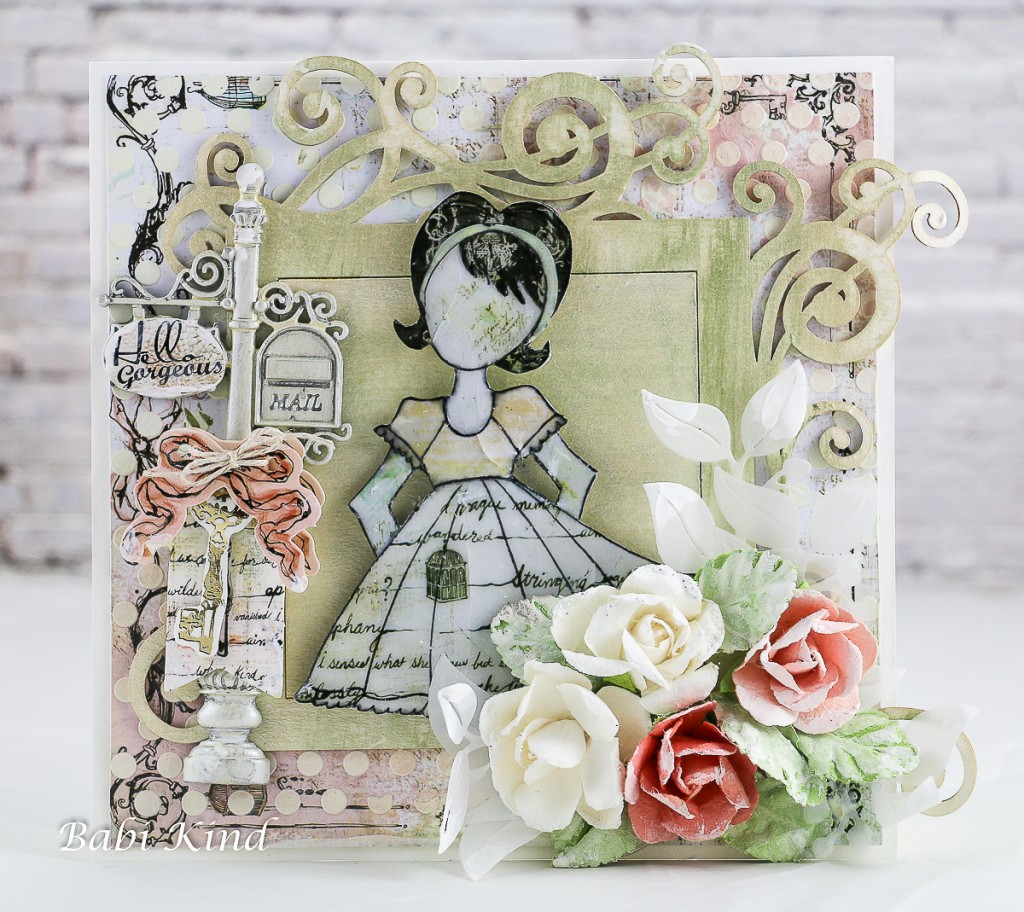 Eu usei papeis Prima coleção Epiphany para fazer a Doll e como papel de fundo.  Para fazer o background eu usei gesso Prima ArtBasics e stencil de bolinhas, depois borrifei com Color Bloom Peony.
I used the Epiphany collection to create the Doll and the background. On the Background I used Gesso ArtBasics and a Polka dots stencil to create some texture and after that I sprayed with Peony Color Bloom.
Essa resina linda é da coleção shabby da Ingvild Bolme. E o adesivo 3D de lacinho também faz parte da coleção Epiphany.
This beautiful resine by Ingvild Bolme is one of the new releases from Prima. I love the shabby resins. I also used this 3D sticker from Epiphany collection to give a special touch.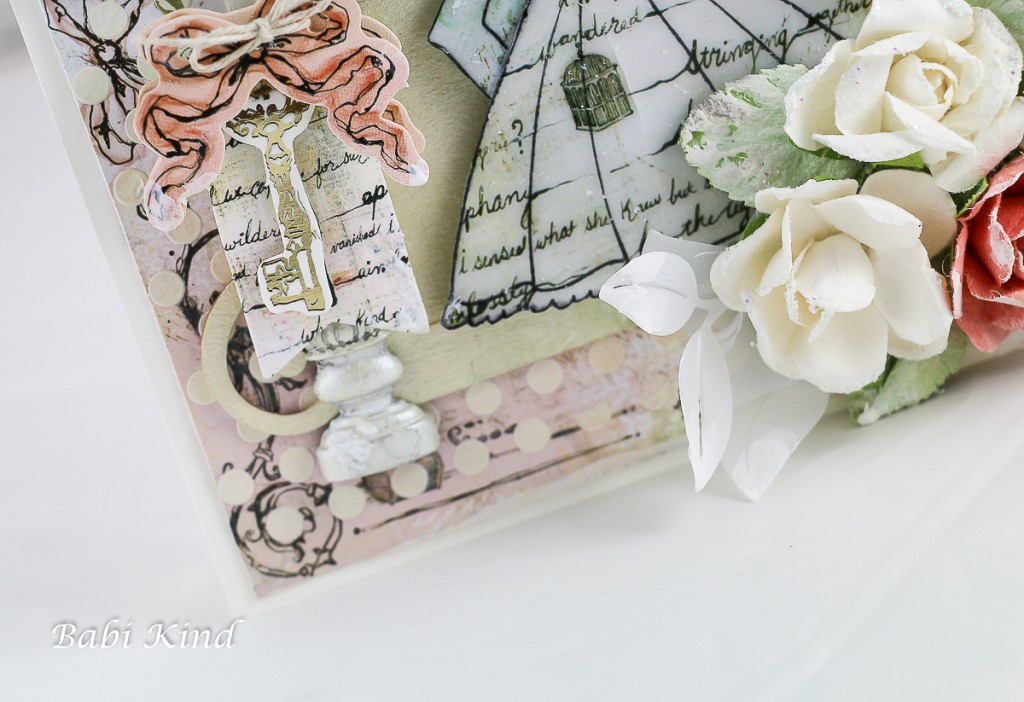 Detalhe do gesso
Some gesso details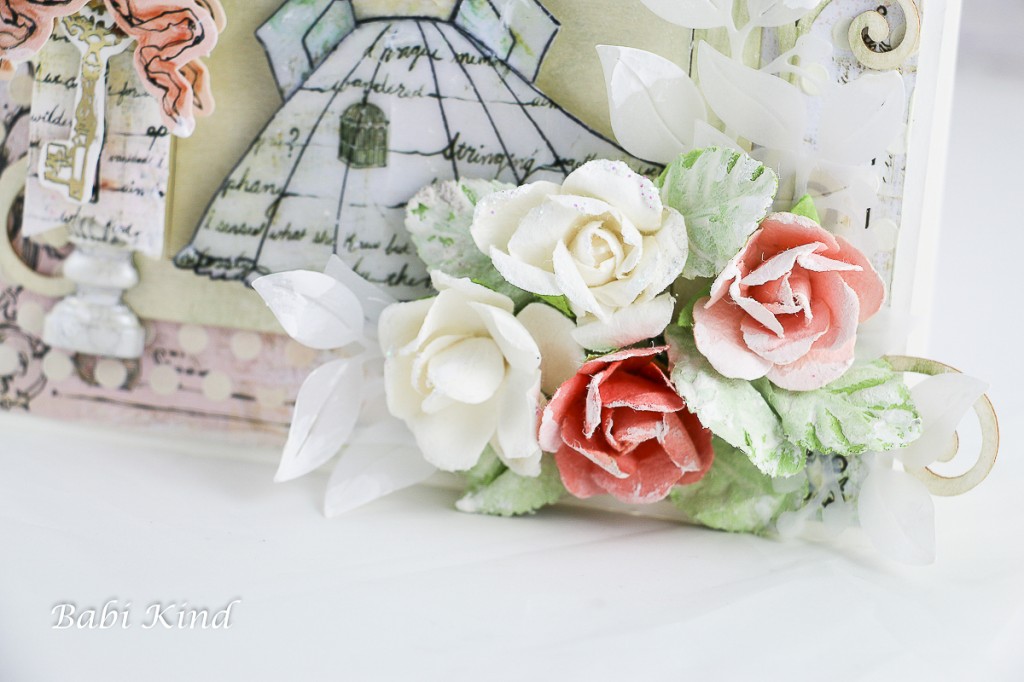 As flores tambem são da Prima e a folhagem é uma faca da La La Land.
Flowers from Prima. I just added some gesso to create a more vintage look.
Na Doll eu usei o Utee para criar um efeito de vidro e criei umas rachaduras para dar ideia de vidro quebrado. É uma pena que não dá para ver direito na foto.
And here is my doll. I covered her up with UTEE and melt it with a heat gun.  It looks like a broken glass. So bad it didn't show up in the picture.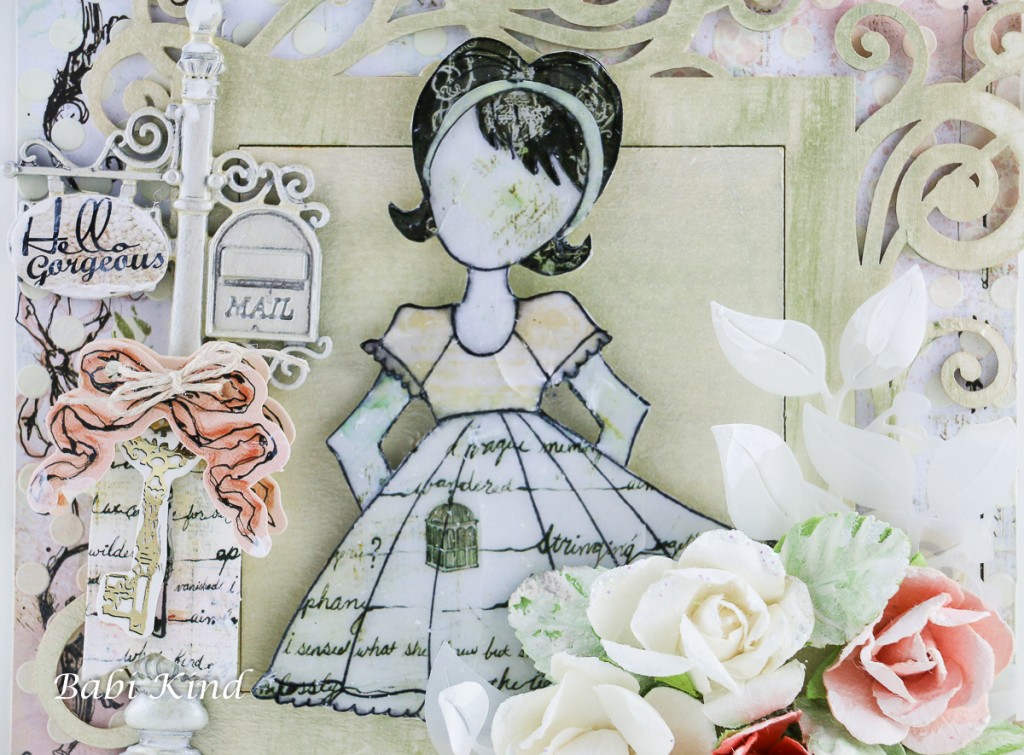 Essa modura é um chipboard  e eu o pintei com tinta metálica da Martha Stewart para criar um feito . Excelente tinta, ótima cobertura e secagem super rápida.
And last, but not least . The chipboard frame I painted with Martha Stewart Metallic paint. Very nice and it dries fast. Love it!
Espero que tenham gostado e atéa  próxima.
Hope you like it.  Thanks for stopping by.