Olá meninas,  hoje eu trouxe um cartão de aniversário que eu fiz para o desafio do Tilda's Town com o tema celebrate.  Eu escolhi essa Tilda with Balloon para fazer o cartão e confesso que ela estava parada aqui em casa a séculos e nada deu usar a bichinha. rsss
Hello Everybody, today I would like to show you a birthday card I made for the Tilda's Town Challenge. I've chosen this cute Tilda since she is perfect for the occasion. I must confess  I haven't had the chance to use this stamp for awhile and I feel glad to finally take her out of my draw.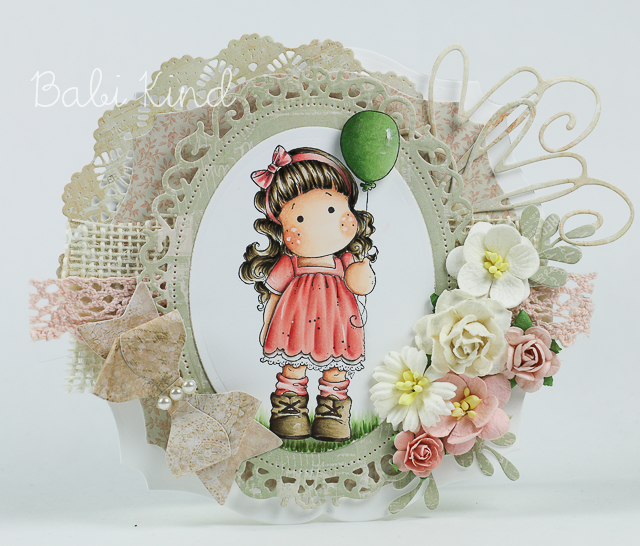 Os papéis são da Prima – coleção Divine
Papers are from Prima- Divine Collection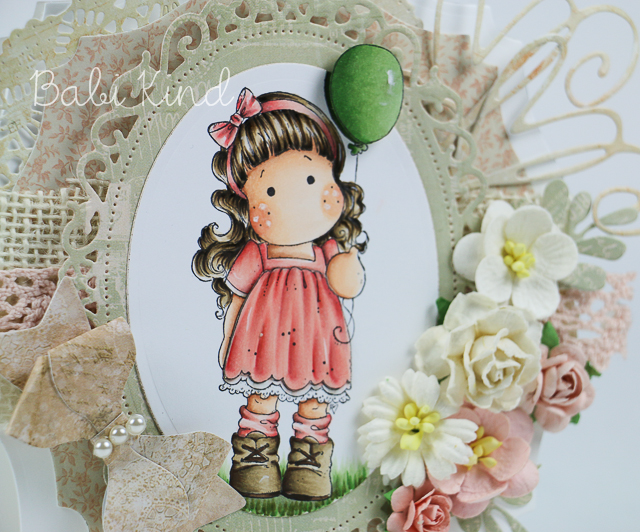 Também usei faquinha Floral Ovals da Spellbinder, Bride Bow e In My Heart (da coleção Lost a& Found),  Vintage Flowers and Leaf da Magnolia. Essa faquinha linda de Doilie é da Cheery Lynn. Só para lembrar que essas faquinhas estão disponíveis na loja online do Tilda's Town.
I also used Floral Ovals Dies from Spellbinders. Doohickeys: Bride Bow , In My Heart Snow  and Vintage Flowers and Leaf are from Magnolia.  The cute doilie is a die from Cheery Lynn. Just to remind you that you can find all these die cuts at Tilda's Town online Store.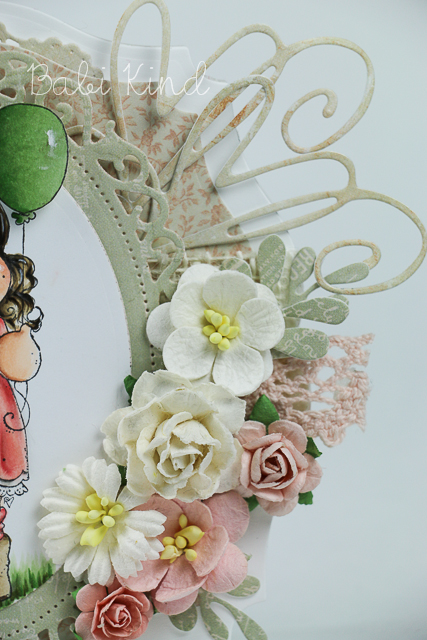 Flores Wild Orchid.
I used Wild Orchid paper flowers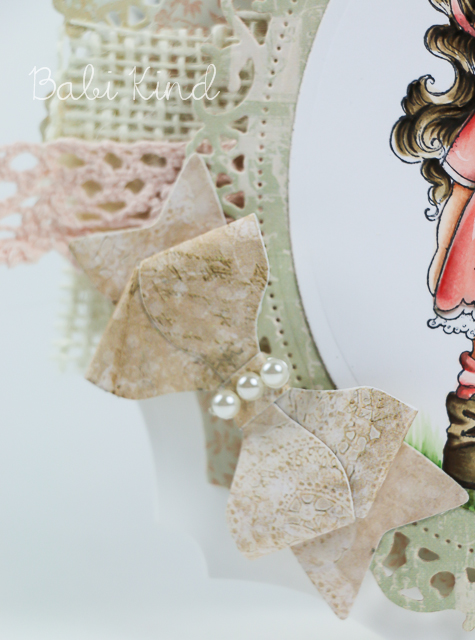 COPICS:
Pele/Skin: E13,E11,E00,E000 e R20.
Cabelo/Hair: E49,E47,E44,E42 e E41
Vestido/ Dress: R22,R21,R20 e R00
Sapato/Shoes: R47,R44 e R43
Grama/Grass: YG67,YG63 e YG61
Balão/Balloon: YG67,YG63 e YG61
I hope you stop by Tilda's Town blog. The winner will get a great prize – a $10 Gift Certificate to Tilda's Town online store. The winner will be random!
Tilda's Town is a most magical shop specializing in Magnolia Stamps. Over 1,100 stamps in stock at all times. Tilda's Town offers FREE worldwide shipping on every order, every day. You can also save up to an additional 20% on your purchase by using one of the famous coupon codes.
Challenges I'm  participating
http://marvelousmagnoliachallenge.blogspot.com/2014/01/challenge-60-pretty-pearls.html
http://fashionistachallenge.blogspot.com/2014/01/fashionista-magnolia-and-more-challenge.html
http://inkychicks.blogspot.jp/2014/01/challenge-21-bingo.html
http://www.theribbongirlchallengeblog.blogspot.co.uk/2014/01/anything-goes-challenge.html