Hi girls,
Today I have a special card that I've made for the Tilda's Town Challenge. The theme of this challenge is favorite Tilda or Edwin and I must confess it wasn't easy to pick one.  For me they are all nice and cute and I never  thought about which one would be my favorite. So, looking at my Magnolia's collection  (not as big as you think) I saw the Explore Tilda and something just clicked. LOl.   I chose her because it reminds me of my childhood.  Yes, I was the little girl hanging out at Granny's place, chasing insects and butterflies. Always exploring her garden and nature. I would touch, observe and collect them without fear or thinking to much about it. Of course, I used to drive my family crazy coming back from the garden dirty and looking like a little pig with a bunch of containers  full of  insects. So this Tilda really reminds me of  a nice simple time when we  were kids. I hope Olivia is as curious  about  nature as I was. It will be good to relive the past  with my little girl.
If you have a fave Magnolia Stamp and I'm sure you do go ahead and take a look at The challenge  for this week at Tilda's Town.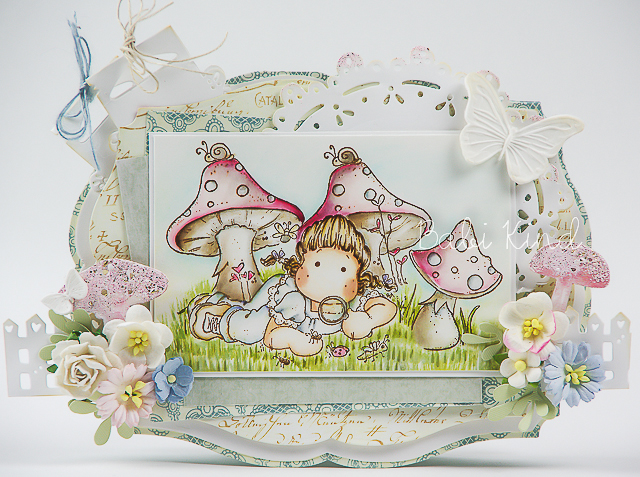 I've  colored the Explore Tilda and the Mushroom with Snail stamps using distress ink (Yes, it is my new addiction Lol). Also I used Lovely Fence, Doily Tilda and So Wrapped Lovely die cuts from Magnolia, The flowers are from Wild Orchid and the cute papers are from Secret Garden collection  (Graphic 45).
I hope you stop by Tilda's Town blog. The winner will get a great prize – a $10 Gift Certificate to Tilda's Town online store. The winner will be random!
Tilda's Town is a most magical shop specializing in Magnolia Stamps. Over 1,100 stamps in stock at all times. Tilda's Town offers FREE worldwide shipping on every order, every day. You can also save up to an additional 20% on your purchase by using one of the famous coupon codes.