Oi pessoal,
Para começar a semana com o pé direito eu fiz um cartão para dois desafios: CAS-ual Fridays e CASE Study. Eu estou adorando participar desses desafios porque me permite criar cartões bem no estilo que eu gosto, ou seja, super clean. Eu confesso que as vezes fazer cartão clean é um pouco difícil…porque você sempre sente que está faltando alguma coisa, algum detalhe. Mas depois de um tempo você acaba se acostumando e a criatividade começa a fluir naturalmente. Eu ainda tenho que aprender e treinar muito, mas espero um dia chegar lá. Bom, se tratando dos desafios, o CAS-ual Fridays dessa semana é com o tema "o que você acha no mar", já o CASE Study é para se inspirar em um dos cartões feitos (criação atual ou mais antiga) pelas DT´s. Foi difícil escolher a minha musa, pois todas são excelentes designers, mas eu acabei  escolhendo a fofa da Debby Hughes e seu  lindo cartão clean..
In English: I've decided to start this week on the right foot and I made a card for two challenges: CAS-ual Fridays and CASE Study. I enjoy participating in these blogs because it allows me to create cards using the style that I like the most, clean cards. I confess,  sometimes it's  very difficult to create a clean card… I always feel like it's missing something or  have little details, but after awhile you get use to it and being creative become much easier. I still have a lot to learn and practice,  hopefully I'll get there. The challenge at CAS-ual Fridays is about things  you might see in or at the ocean and  CASE Study is about  creating  a paper crafting project  based on the Muse's creations. It was difficult to pick one Muse since CASE Study has great Designers but I choose Debby Hughes and her beautiful clean card.
Esse é o cartão da Debby, super lindo!
.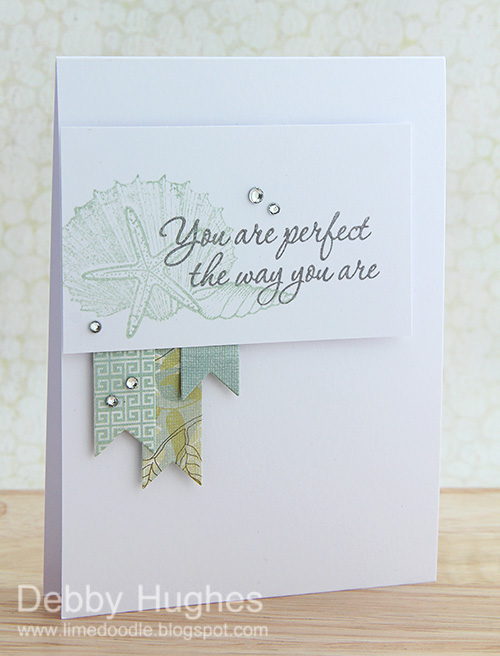 .
E a minha versão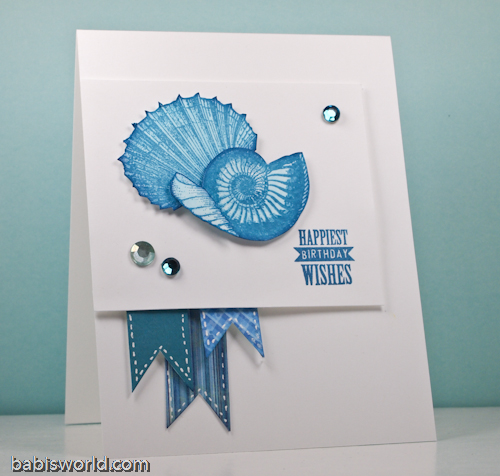 Materiais utilizados: Papeis Neenah e K& Company, carimbos Hero Arts e PaperTrey Ink, carimbeira  Versa Color (Lapisazuli e Lagoon Blue) e Cristais Hero Arts.